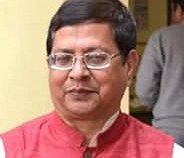 Creativity without limits,
Aesthetics with functionality,
Quality without compromise.
Co- Creation- An Online inter-disciplinary
multi-lingual Journal
Issue 1, April 2020
Published by Ramanuj Gupta Degree College
In the wake of the outbreak of COVID-19 in the world and in India, as per the declaration of the Prime Minister, the entire nation is under a lockdown. This step is being taken to prevent the spread of the deadly disease and to ensure security to humanity. As the institutions are closed and the students and teachers are not in a position to attend the classes, therefore taking care of the academic interest, Ramanuj Gupta Degree College has not only made an online mode of teaching available to the students, but also it has decided to create a platform in the form of the publication of one e-journal entitled CO-CREATION. The main objective of this e-journal is to keep the students and teachers at home engaged in some creative exercises. Through this journal, all RGDCians will share their thoughts and feelings through different creative formats specified. In fact, Co-Creation will be a collaborative product of news, concepts, ideas and solutions during the quarantine period. It is expected that the enriching contributions of the contributors will ensure collective good, promote positive vibes and dilute all negativity that might grow up in the mind of the people during the period of social distancing. The contributors, with their thought-provoking creations will lead to the growth of core values like accountability, integrity, responsibility, diligence and mental disciplining which are the major needs of the hour.
During the early phase of quarantine, the very concept of publishing an e-journal by the Degree college emerged and was immediately responded to by Dr. Anjana Bhattacharjee, principal of RGDC, equally a tech-savvy person par excellence which has enabled us to come up with CO-CREATION. Smt. Srestha Kar, a young and vibrant faculty of the Dept. of English, RGDC, has been entrusted with the responsibility to do the arduous work of compiling and editing the maiden issue of this e-journal which has given an added fillip to the entire venture.
I am sure that the Editorial Board of this e-journal will take all care to produce something productive and inspiring to overcome all apphensions and disillusionment in this hour of crisis. RGDC believes it heart and soul that in the debris of destruction, there is always the possibility to sow the seeds of creation and it is always guided by the motto 'to do something differently' and that is why the e-journal has seen the light of the day.
"Stay home, stay safe and be creative"
Dr. Dipankar Kar
Director,
Ramanuj Gupta Degree College
(Affiliated to Assam University, Silchar)
Birupakshya Paul Choudhury, Assistant Professor, Dept. of Zoology, (Member)

Susweta Sinha, Assistant Professor, Dept. of Commerce, (Member)

Shrestha Paul, Student (Member)

Hrishikesh Deb, Student (Member)

Debayan Dey, Student (Member)